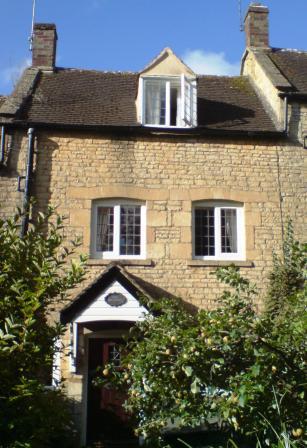 A Car-free Holiday?
Holiday in the Cotswolds
Getting There and Getting Around
For those who prefer not to use a car on holiday, Blockley represents an excellent example of a location that is tranquil yet accessible by public transport. Moreton-in-Marsh is on the main London-Oxford-Worcester rail line and is served by frequent trains direct from London Paddington in around 90 minutes. From Moreton, Blockley is 10-15 minutes away by bus or taxi. Apple tree cottage itself is around 200 metres from Blockley's main bus stop.
The bus service goes regularly between Moreton-in-Marsh via Blockley to Chipping Campden and on to Stratford on Avon, at roughly 75 minute intervals throughout the day (currently, last bus from Moreton to Blockley is just after 7pm, last bus from Stratford 5.55, Chipping Campden 6.30pm; no buses on Sundays). Around half the buses to Chipping Campden go via Broadway. Moreton itself is quite a centre for buses.
Several attractions are within 2-3 miles walking distance of Blockley. These include Sezincote House and gardens, Batsford Arboretum and Bourton House (all three are somewhat nearer by taking the Moreton bus as far as Bourton on the Hill). Of these, Batsford has a café and Sezincote serves teas, but the Horse and Groom pub at Bourton on the Hill is recommended. Chipping Campden is a delightful walk from Blockley, with several variations of route and can be combined with taking the bus one way.
Within Blockley itself, you can walk from the cottage door on a wide variety of different walks. The village is on several long distance path routes.
Practical Matters
Blockley's community shop serves a wide range of needs from milk, bread, newspapers, to ready meals and produce, post office etc. and includes an off-licence. At time of writing, it is open every day including Sunday and on weekdays opens at 9; it does not close until 7pm on Weekdays. It is well worth supporting this venture.
Moreton is the nearest place for more extensive shopping needs. It has a medium-sized supermarket adjacent to the station and a late-opening small Co-op and Tesco, plus an Aldi supermarket on the main road to Stow. It also has a butcher, a hardware shop, a chemist, a bank, laundrette, etc., plus a weekly market on Tuesdays.
Both of Blockley's village pubs provide evening meals and the Great Western provides lunch most days. The village shop has a daytime café and also serves meals on Friday and Saturday evenings- booking essential.